By Angela Attwood
This course qualifies for 2 credits
A fully illustrated step-by-step instruction booklet and how-to Video by Angie Attwood
This fun quilting design can be used in any way you wish, for a bag, a cushion, or stitch multiples together to make a wall hanging, quilt, table or bed runner – the choice is yours! Part of the Squared Up Series.
When new to ruler work, large projects can often feel intimidating. Small projects are perfect practice pieces, help build your confidence and improve your technique. Originally designed for the outer of my 12.5″ Crosshair Square/Ruler Carrier, it can also be stitched to make beautiful cushions, bags, or table runners and quilts, with a repeat pattern. And, don't be afraid to go off-piste and add your own modifications when the inspiration strikes!
These instructions cover how to stitch the design within a 14″ square.
You will need: A fabric sandwich approx 17″x 17″ (FQ).
Westalee Templates used: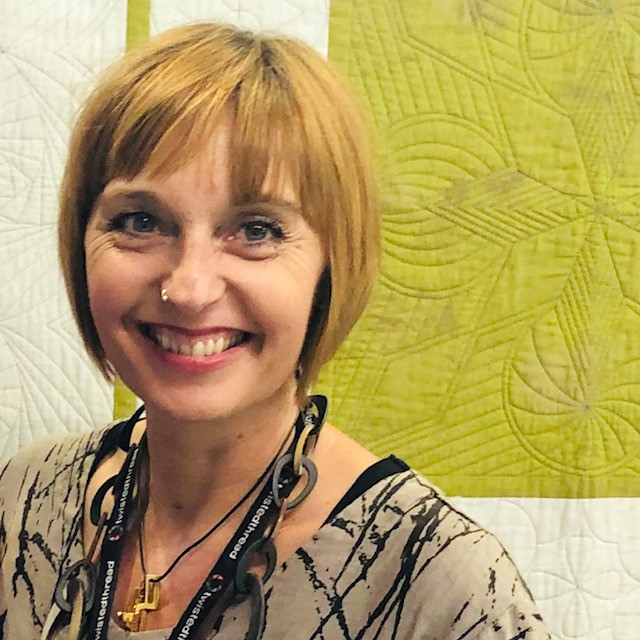 Angela Attwood,
Westalee Design Accredited Teacher, Owner of Angie Attwood Textiles.
After a successful career as a graphic designer/art director spanning over 20 years, in 2010 Angela embarked upon a new career path in textiles, following her passion to 'make'. After studying C&G's Machine Embroidery and Innovative Textiles, she designed and produced a small range of textile art kits whilst working as a sales consultant and demonstrator of sewing machines. Her kits emerged from being invited to design for 'Stitch', The Embroiderers' Guild magazine.
Click Here to learn more about Angela Attwood
Instructional Video & Pattern *Template Product Not Included.