This course qualifies for 2 credits
Create easily pieced and quilted table runner with place mats!
Skill Builder Series – Beginner Quilting with Rulers By Anita Ellis
Increase your ruler quilting skills, step-by-step! The Skill Builder Series by Anita Ellis has been carefully designed to progress your quilting skills from simple beginnings to intricate masterpieces; presented in manageable increments for your enjoyment. Have fun growing your ruler quilting skills with 4 patterns in this Skill Builder Series (Table Runner and Place Mats; Simple Circles; Feather Play European Cushion; Circles Rule)!
Check out my video below!
"It's great to bring a student onto show quilt status, but the real pleasure for me comes from seeing a dispersed regional quilting community come together to build their skills in a sharing and caring environment. Quilting can be a solitary hobby, but the energy and enthusiasm generated when such a group comes together is magical. "
Anita Ellis
I am Anita Ellis, an accomplished Quilting Educator who inspires and mentors' students around Australia in the art of quilting, both on domestic sewing machines, long arm machines, and everything in between.
I am now a full-time quilting educator and Westalee Design Accredited Tutor working across the industry with major manufacturers, quilting shops, guilds, professional long arm quilters and individuals, delivering bespoke training packages. New quilters often lack guidance on how to start. 
I can build up your confidence by bringing together free-motion quilting, quilting with rulers and design techniques using my own tried and tested methods to provide the first building blocks.
Click Here to Learn more about Anita Ellis.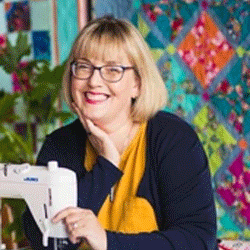 Instructional Video and Pattern. *Template Products Not Included.
Course Curriculum
Available in days

days after you enroll

Skill Builder Series with Anita Ellis