By Sharon Wyatt, The Sewing Class
This course qualifies for 1 credit
Join Sharon in creating this Special Hearts Table Topper. Featuring TempLee Quilting and Quilt As You Go Techniques.
Finished Quilt Size Approximately 28" Square
Westalee Templates Used: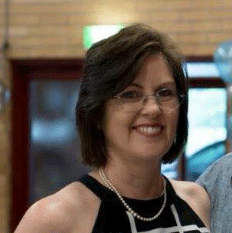 Hi, I'm Sharon Wyatt, Westalee Design Accredited Teacher, and Owner of The Sewing Class.
My sewing and textile journey began as a 12-year-old and first year high school student. Since beginning patchwork and quilting, I have tried various techniques, though have always wanted to complete the whole process from start to finish. Having come across the Westalee quilting rulers, I began to see how I could achieve the final major part of quilting myself. I took a couple of classes and was hooked. It has now become something that I am passionate about and inspired to share with others.
Quilting is something I fell into and have loved it and loved sharing what I have learnt. I get a lot of satisfaction from enabling others to create. Teaching I also fell into through a friends business "The Quilt Fairy" who required someone (me) to help her with teaching. I took an online course "cert4 in Training and Assessment", (for another reason) and found that it applied to the teaching I was doing within my hobby. After which I discovered the Westalee Quilting Rulers when they were released and have been using ever since their release. From there I decided to make it a small business, which is where I am today.
Click Here to Learn more about Sharon Wyatt
Instructional Videos and Pattern. *Template Products Not Included.