This course qualifies for 2 credits
A Little Touch of Magic -
Half Hexagon Illusions Quilt Pattern
Join Mendy as she dives into this eye-catching pattern created by Leonie West.
The Quilt was made using the Westalee Design Adjustable Half Hexagon and Adjustable Ruler.
Measuring 72 inches by 76 inches, this stunning quilt is made without Y seams and without trimming.
The pattern has detailed instructions and fabrics requirements.
The pattern is designed so that a smaller size quilt or even a table runner can be made.
Class FREE with purchase!
Purchase Westalee Design Half Hexagon Ruler and get this class for Free!
The Half Hexagon Ruler easily and accurately cuts the 5 components needed to make Half Hexagon blocks and quilts. The Adjustable Half Hexagon Ruler guide is used at both ends of the ruler. The ruler is clear with etched lines and markings for accuracy.
~ Enjoy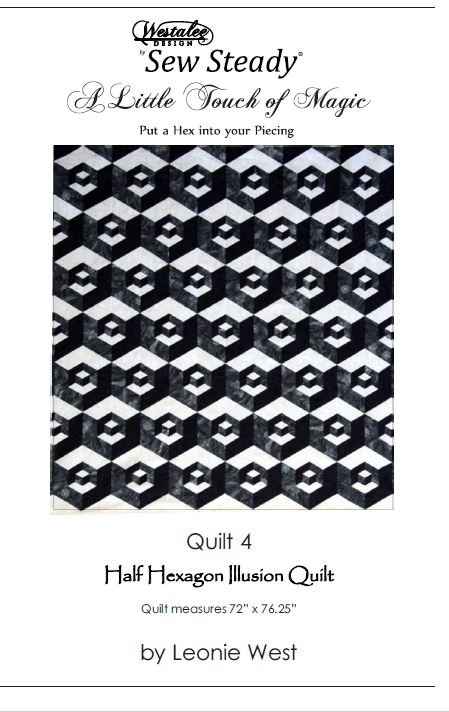 Melinda Tippets, Owner Sew Steady, Quilter
Mendy got her first taste of sewing at age 8, sewing her own clothes. She was so enthusiastic she turned a bed sheet into dress and wore it to school! Mendy continued sewing for many years while making clothes for her children and then in late 2009 her and her family purchased the company Sew Steady.
Mendy's enthusiasm for sewing turned to quilting with the introduction of Westalee Design Templates. Mendy is a Westalee Design Accredited Teacher, and shares her love of designing, fabrics and our Westalee Design Templates.
Learn more about the History of Sew Steady Here

Check your inbox to confirm your subscription