This course qualifies for 4 credits
By Janet Collins
Luna Class Series by Janet Collins. 
This 4 part class series will dive into the Westalee Design Tecoma Templates. Using the TempLee Quilt Technique Janet will show you how to create new, interesting and intricate designs that result in this beautiful quilt.
4 Part Series, includes instructional videos from Janet's Facebook Live Class. Price is for the full 4 part series (not offered as individual series)
"I designed the blocks for Luna while I was testing the Tecoma templates for Leonie West.
This quilt is made up of 4 different block designs that are repeated. I firmly believe that repeating blocks helps you learn better. The blocks are "TempLeeQuilted". When I trimmed out my designs, it started to look like moons and a lunar landscape hence the name Luna.
My focus fabric has nothing to do with stars or the moon, it is actually a riverbed scene with leaves and wood in it. I love that the fabric choice is unexpected. When making your Luna, look for fabrics that are a little unexpected such as fruit, chillis, potatoes or sand. In fact anything that you may not have thought about before. I used the same fabric for my sashing and binding as well.
This book will guide you step by step on how to create the designs you see. This quilt is constructed using Westalee Design's 'Sash As You Go' technique to make a flat and beautifully finished quilt."
Please come explore "Luna" with me. ~Janet

Westalee Design and Sew Steady Tools Used: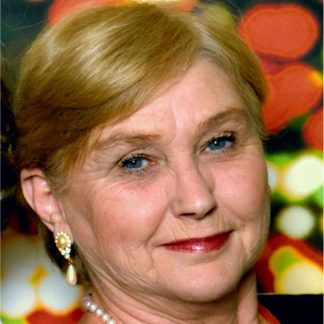 Hi, I'm Janet Collins!
Westalee Design Accredited Teacher, and Owner of 'From the First Stitch to the Last'
I have always had a passion for all things quilty since I started learning nearly 30 years ago. I grew up with a needle in my hand and was always making something. Having been a Primary School Teacher in another life, I bring those skills to my teaching and designing of Patchwork and Quilting.
I know the difficulties for people who say they cannot quilt. I was one of them. My gentle and humorous manner has helped my students everywhere to gain confidence. I always say that when I look around a classroom and sees the other students helping each other I know I have done my job.
My greatest pleasure is to see people succeed.
I am very proud to also be a fully Accredited Teacher and examiner for the West Australian Quilters Association.
Click Here to Learn More about Janet Collins!
You Might Also Enjoy These Other Projects By Janet...
Check your inbox to confirm your subscription