By Angela Attwood
This course qualifies for 2 credits
Petal Power - Pattern and TempLee Quilting Class

Petal Power showcases just how easy, versatile and effective simple curves can be in quilting designs. All of the petals are stitched using curves from the Westalee Design Sampler Set. The 6" Spiral, 4" Arc and 3" Clamshell.
The design will hopefully inspire and give you confidence to apply similar quilting designs to your patchwork projects. After all, seams make great crosshair guidelines.
It's also great to *TempLee Quilt.

The class takes you step-by-step through stitching out the Petal Power design before moving on to the TempLee quilting technique, where Angie demonstrates how best to achieve this stunning finish and shares valuable hints and tips.
The design can be used singularly on a bag or cushion, or stitch repeats to make table runners and quilts.

Petal Power is illustrated at 14" square but can easily be stitched larger with more space between  the outer design and centre motif or, by adjusting the size of the outer petals.

*TempLee Quilting is a Westalee Design term for a reverse appliqué technique achieved during the quilting process.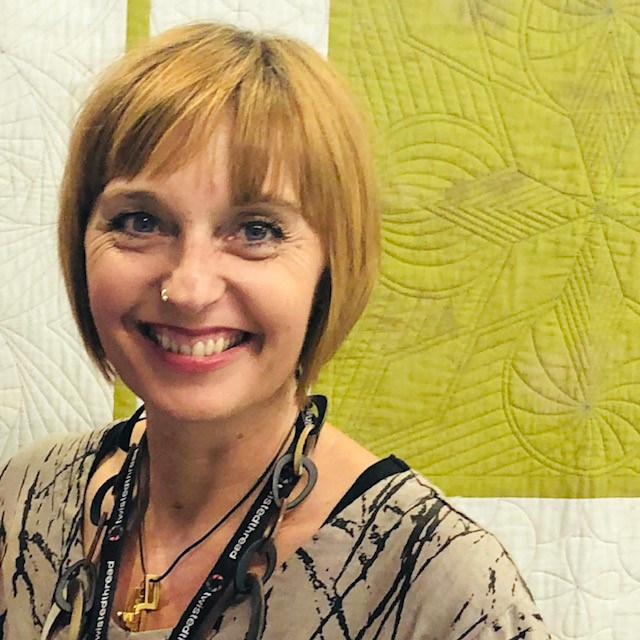 Angela Attwood,
Westalee Design Accredited Teacher, Owner of Angie Attwood Textiles.
After a successful career as a graphic designer/art director spanning over 20 years, in 2010 Angela embarked upon a new career path in textiles, following her passion to 'make'. After studying C&G's Machine Embroidery and Innovative Textiles, she designed and produced a small range of textile art kits whilst working as a sales consultant and demonstrator of sewing machines. Her kits emerged from being invited to design for 'Stitch', The Embroiderers' Guild magazine.
Click Here to learn more about Angela Attwood

Check your inbox to confirm your subscription