By Angela Attwood
This course qualifies for 1 credit
Stanley can be made as a cushion, a wall hanging, or lap quilt!
Depending on your chosen fabrics, he can be made to enjoy all year round, as a winter feature or as a festive Stag/Reindeer. He's a great weekend project and would make a wonderful gift too.
Pattern includes two patchwork project sizes and three quilting designs!
The instructions take you step-by-step through the whole making process before offering several quilting options; there are designs to suit all quilting techniques, whether you quilt by hand, by machine with a walking foot, free motion or using templates!
The design is simple to make requiring only a couple of techniques; making half square triangles (HST's) and squares and rectangles with corner triangles. 
The projects can be made with just two contrasting fabrics however a third and/or forth in the borders adds a little more interest. Choose small to medium sized prints (especially for the cushion and wall hanging) and fabrics unrestricted by print direction .
If you quilt with Westalee templates, designs suggested use:
• Westalee Design 12" Arc only
• Westalee Design Sampler Set (6 piece)
• DM Quilting Holiday Sampler Set
Finished project sizes:
Cushion approx 18"
Wall hanging 22.5" x 23.5"
Lap quilt 43.5" x 45.5"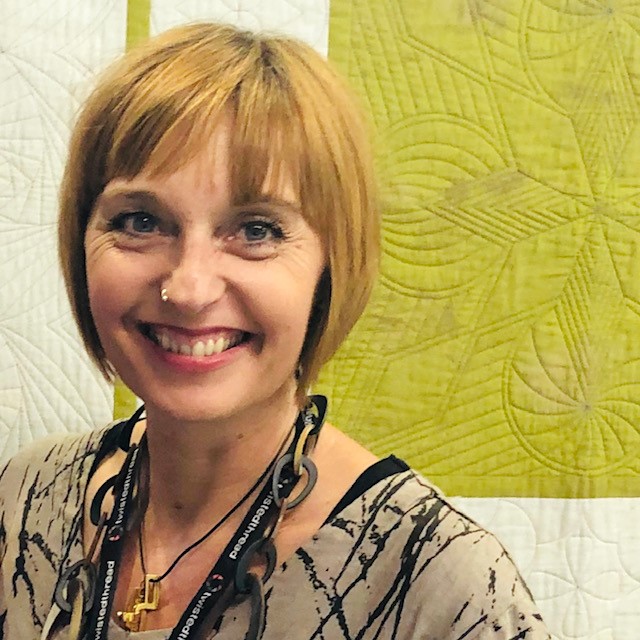 Angela Attwood,
Westalee Design Accredited Teacher, Owner of Angie Attwood Textiles.
After a successful career as a graphic designer/art director spanning over 20 years, in 2010 Angela embarked upon a new career path in textiles, following her passion to 'make'. After studying C&G's Machine Embroidery and Innovative Textiles, she designed and produced a small range of textile art kits whilst working as a sales consultant and demonstrator of sewing machines. Her kits emerged from being invited to design for 'Stitch', The Embroiderers' Guild magazine.
Click Here to learn more about Angela Attwood
Instructional Pattern Only *Template Product Not Included.